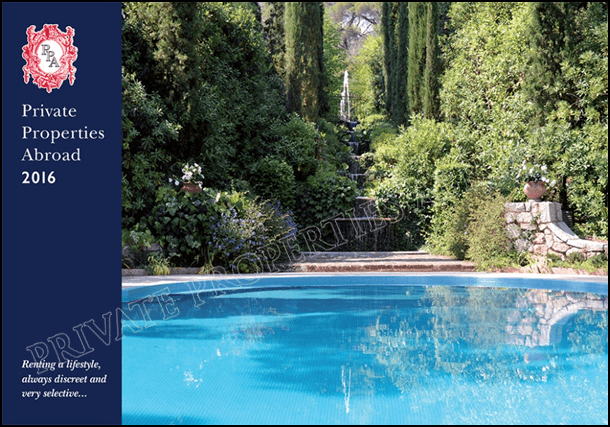 2016 Brochure Now Available November 17, 2015 5:45 pm
The new Private Properties Abroad brochure has now been published and it is full of glorious houses in superb locations.
For 2016 we feature France, Italy, Spain, Morocco and Thailand and the possibilities are endless at all times of year in these beautiful houses. The summer season is deservedly popular in our quest for sunshine and family time. But for those in the know, Spring and Autumn can also offer glorious weather, fewer crowds and hopefully easier journeys. The freshness and flowers of Spring and the colours and abundance of Autumn can be equally rewarding.
Certain properties will offer comfort in winter and are available for Christmas and New Year, please do contact us for details.
Winter sun can be found in Thailand where we recommend a stay at Villa Emikami on the Island of Phuket (TH902). Morocco is another popular destination for this time of year: Villa Ezzahra (MO801 and MO802) offers indulgence in La Palmeraie district of Marrakech and Villa Ruspoli ( MO804) standing in 28 acres in the foothills of the Atlas mountains, yet only 35 minutes from Marrakech.
Holidays are so personal and time is precious, memories even more so. Here at Private Properties Abroad our small team enjoy speaking to you and helping you find that certain place; whether you are searching for peace and quiet, enjoying time with family and friends or gathering for that special celebration.
If you have not already received a copy of our 2016 brochure, please do contact telephone us on 01423 330533, email enquiries@ppaproperties.com or fill in our contact form and let us help you find a special property for your next holiday.