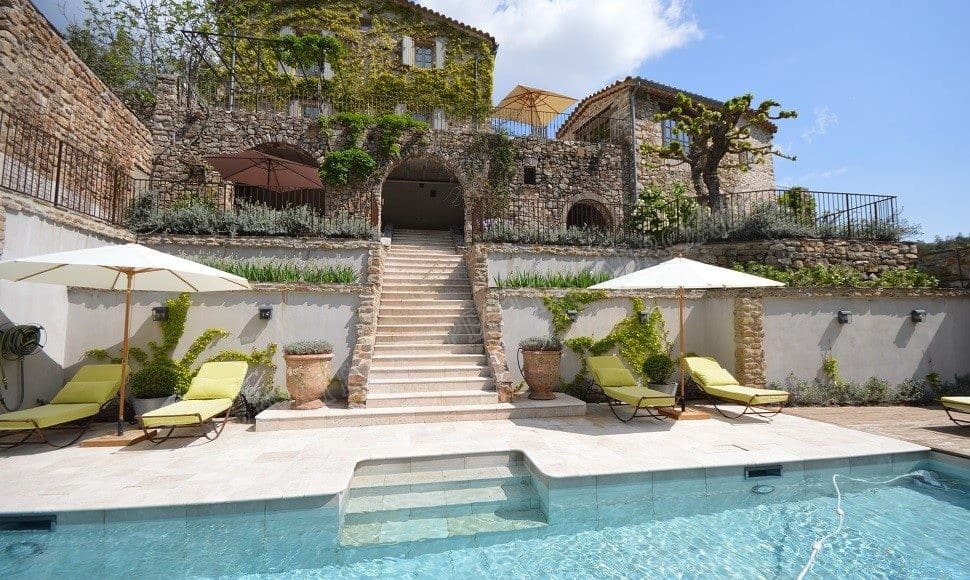 A great start to our 2019 season… February 12, 2019 3:28 pm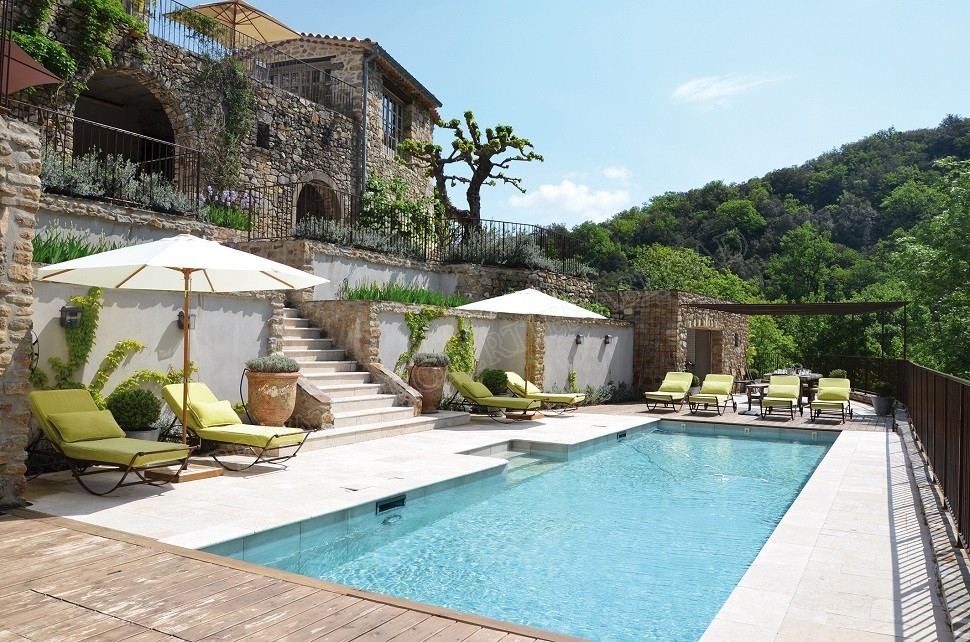 Following the launch of our new brochure late last year we are busy with enquiries and bookings for 2019 and even 2020.
Our portfolio is as strong and inviting as ever, with many long-term favourites and some fabulous new editions in France and Italy.
With new listings in the pipeline, Is it time for you to discover your private property abroad?
For those of you looking for a little holiday inspiration to get you through another long, cold winter, let us showcase the newest properties to our portfolio……………..
FR179 Mas le Vacquier, Cévennes Montagnes. Languedoc Roussillon
Sleeps up to 8 people plus 4 young.
This special and unique property is in a stunning position, set amongst the wooded hills of the Cévennes National Park – a nature lover's paradise. If your perfect holiday means peace and seclusion, then this is the property for you…stay awhile here and breathe in the fresh forest air and relax to the sound of birdsong.
The property has a lovely heated swimming pool (11m x 3m) with plenty of comfortable chaise longues and parasols to allow for afternoons of relaxation and swimming as well as a prepared boules pitch for a spot of competitive exercise, should the fancy take you.
Spend evenings dining on the fabulous terrace under the stars, sampling excellent regional wines, which the owners can recommend. Should you wish for some time away from the kitchen whilst on holiday, the owners recommend a wonderful chef, from a renowned Canadian family who now offers a cooking service, using exquisite local produce to create mouth watering dishes, according to your tastes and preferences.
Four mountain bikes are offered at the property, for those wishing to explore the area on two wheels, and indeed this is an excellent place to do so! The area is criss-crossed with randoneering trails which are easy to navigate – the major routes offering easy biking suitable for beginners, and the minor trails have more technical terrain if you're looking to challenge yourself.
If mountain biking isn't your thing but you'd like to explore, the same trails are open to walkers– take some comfortable shoes and a sunhat with you, and get out into the hills and deep wooded valleys to marvel at the beautiful views and peace of the area.
And at the end of day's exploring or relaxing, wander down to the edge of the property, to where the gently flowing stream creates natural pools, dip your feet in the cool, clear waters and drift away.
For the less energetic, the Languedoc Roussillon area is rich in history and culture. Spend some time mooching around the local market towns of Lasalle (8km) and Anduze (25km) and pick up fresh local produce and artisan gifts, or plan visits to marvel at the dinosaur footprints etched into the limestone of St Laurent de Treves, or further afield Montpellier (76km) is an open air museum of medieval streets boasting art galleries and museums. Visit the Musée Fabre to view the exceptional collection of paintings by Italian, Dutch and French masters from the Renaissance to the 19th century.
The Languedoc-Roussillon area might be slightly off the beaten track, but has a talent for capturing visitors' hearts with its distinctive Mediterranean charm – you'll certainly never be bored!
FR180 Le Jardin des Saveurs, Vaison-la-Romaine, Vaucluse/Haut Provence
Sleeps up to 10 people
If you crave a home from home with sophistication and gentle ambience, removed from the hustle and bustle of everyday life, yet with a vibrant Provencal town within easy reach, then this may very well be the property for you.
Le Jardin des Saveurs offers a lovely swimming pool (13m x 6m) with plenty of comfortable chaise longues on which to relax under the cork oak and micoulier trees, and boules and table tennis for the competitive amongst you. There is even a well appointed fitness room for those who want to maintain their fitness regime on holiday, complete with cross-trainer, stationary bike, step master, pilates ball, yoga mat and TV/DVD with a selection of zumba and gym DVDs; a hammock and swing chair in the garden are the perfect places in which to cool off afterwards.
Stroll over to the impressive kitchen garden and help yourself to the freshest ingredients for al fresco lunches or dinners to be enjoyed at a choice of summer dining and seating areas in the glorious Provencal sunshine or in the gentler warmth of the nighttime air. If cooking isn't your thing, or you simply want a break from all of it, a cook is available to drop off delicious ready prepared dishes or stay and cook for you. Cooking classes can also be arranged, and coordinated with a visit to the market for ingredients not found in the kitchen garden.
A visit to this fabulous area would hardly be complete without sampling some of the local wines, and wine touring or wine tasting classes can easily be arranged with a little advance notice. Discover some of the best wines to enjoy during your stay, and to take home with lovely memories of your holiday.
Vaison-la-Romaine ('the Roman City') is only a short walk away (1km), split into two parts by the river Ouvèze, spanned by a Roman bridge. The walk up to the 'high town' which clings to the hillside, is worth doing to stroll the medieval streets and discover squares with cooling fountains, ornately carved doors and the ruins of the 12th century castle. The lower town, with tourist office, offers cafes, restaurants and shops to while away the hours.
For a little retail therapy, how about some expert guidance on flea marketing in the area for finding some fabulous French antiques and curios? The owner can recommend the best markets and times for finding that unusual gift or piece to take home.
For the more active, we recommend a visit to the Dentelles de Montmirail – the foothills of the highest peak in Provence, Mont Ventoux which provide the spectacular backdrop to 600 walking, climbing and mountain biking trails. For the truly energetic, Mont Ventoux itself features in the famous Tour de France as the hardest of all the climbs – although most of us may prefer to drive up to appreciate the demands of this section of the route! If cycling is your passion, expert advice is available on where to rent your bicycle and where to go – the French take their cycling very seriously!
Le Jardin des Saveurs offers the perfect base to explore this fascinating area, or just to sit back and bask in the glorious weather in this wonderful region of France.
We hope we have given you a little taste of our newest properties to whet your appetite and inspire you to turn your thoughts to holidays. We would be delighted to hear from you if you wish to discuss any of our lovely properties in France, Italy, Spain, Thailand or Morocco – do contact us either by email, telephone or via the contact us page on our website – links and details below:
Before we leave you, here are just a few comments from the 2018 season;
FR147 (May 2018)
We had the most wonderful week at, it could not have been better, and the staff were charming.
FR117 (May 2018)
We had a lovely stay at, the house and gardens were lovely. We had a fantastic stay and look forward to using PPA properties again in the future.
FR171 (July 2018)
Absolutely beautiful house, wonderfully equipped, fantastically clean and perfectly suited to our needs with great hosts and a lovely cleaner ……and we will certainly go back to the house – we loved it.
FR153 (August 2018)
Hi, we had an amazing stay. The owners were very accommodating. The house was beautiful, immaculately clean and very well equipped. We would definitely stay there again.
IT511 (September 2018)
The Villa is elegant, relaxing and magical. The landscape is unbelievably beautiful.
We had a marvellous time and so appreciate you and your staff for answering all of our questions and concerns in anticipation of our trip.